9am's Fortune Global 500 Client

Siemens is one of the Fortune 500 technology companies in electrical, automation and digital fields. The company is active around the globe, focusing on the areas of intelligent infrastructure for buildings and distributed energy systems, and automation and digitalization in the process and manufacturing industries. 
Siemens develops the most promising products and solutions in China, for China and also for the world. The company focuses on digital innovations and combines the global R&D systems and extensive network of innovation centers with local business needs. Siemens develops innovations to fulfill the needs of local customers and breathe fresh life into transformation and upgrade of China's industries.
Siemens is very much interested in implementing digitalized strategies into the workplace, and practicing a spatial planning strategy that is supported by data. The basic needs to implement digitalized technology into its offices include increasing the space utilization efficiency of office buildings, and meanwhile reducing the cost on asset management.
Before the partnership with 9am, Siemens was planning to establish an innovation centre in its Asian head office in Beijing, and provide creative ideas and data-sharing to other innovation centres around the globe. 
Siemens has always been looking for a lasting yet timeless solution to elevate employee's well-being and work experience. The company wanted to incorporate an engaging experience at employee's daily work to improve employee's productivity and level of engagement. 
By analyzing the organizational structure and flow rate among each department, we found that requirements towards workstations differentiated among departments. But the shared needs remained to be increasing employees' work experience and asset management efficiency at the same time.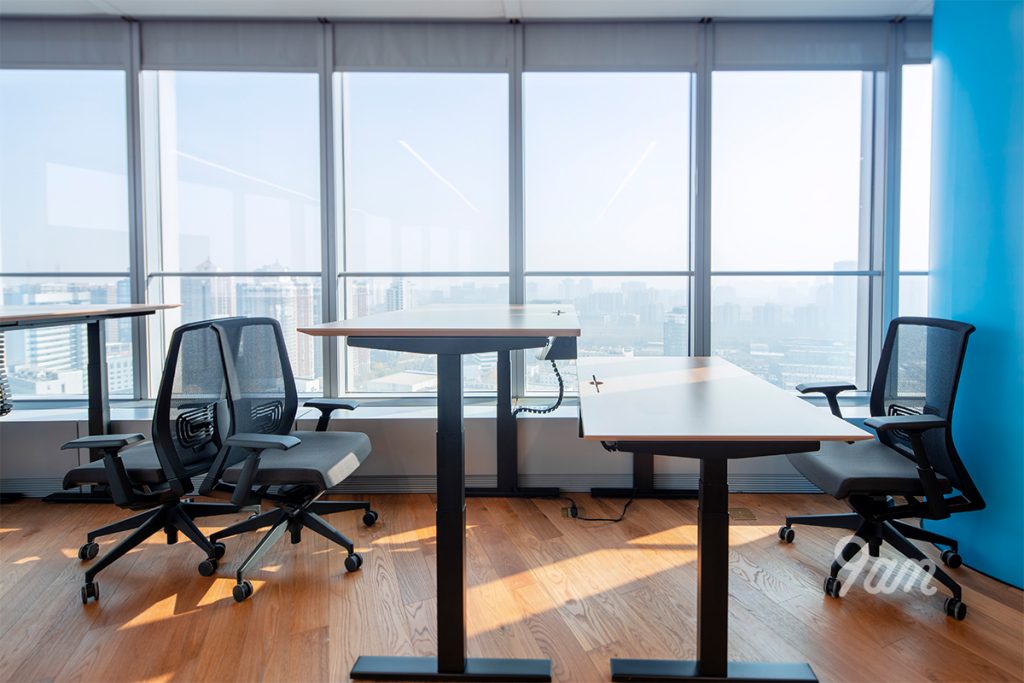 Digitalized workstation solution
PESK – the most well-liked 9am standing desks 

PESK PLUS – thickened table legs and bigger desktops customized for manager-level and above.

Customized handset – Siemens logo, three-way sit-to-stand notification (flashing, vibration, and automatic lifting)
Spatial analysis solution
Occupancy sensor – for workstations, to detect occupancy; able to detect the presence of stationary humans
Counting sensor & Ceiling mounted detection sensor – for meeting rooms to 
A full range of services backed by feasible strategies
9am provided Siemens with a full range of services that covers both employees' and management's needs. These included increasing employees' work experience, and solving space-oriented problems. To make sure the rearrangement solutions work out in the most effective way, 9am followed in steps to conduct the practices: 1) collecting spatial data, 2) analysing data and exporting reports, 3) providing suggestions on rearrangement, 4) continuous tracking and follow-up.
Making ergonomic sense by using standing desks
9am proposed a solution to ensure adequate ergonomic procedures are in place for employees' health. Thousands of adjustable desks were placed in Siemens offices in 5 cities across China. Unlike the majority office furniture fails to achieve "one size fits all", 9am height-adjustable desks were ergonomically designed to accommodate the full range of required movements among employees.
Reorganizing workplace using hot-desks
Before Siemens reconstructed its Beijing office, 9am conducted a research to its workstations about the current occupancy situation, using real-time data transmitted from 9am workstation occupancy sensors. Based on the occupancy data report, Siemens decided to turn a whole floor of its Beijing office building into hot desks area, and by doing so, employees who work remotely at least part of the time were simply reserved a nondedicated workstation when they did work in the office. 
Remodeling meeting rooms by shrinking large ones
By interpreting data information provided by 9am detective sensors positioned in conference meeting rooms, Siemens came to realize that many of its large conference rooms were among fewer people, making the rest of those empty chairs just a waste of space. These large conference rooms ended up being used for small meetings far too often, resulting in a misfit between the employee needs and space. The strategy that Siemens put into force was remodeling meeting rooms by shrinking large-size meeting rooms into small-size ones.
"We have chosen 9am as our exclusive partner of standing desks and Spatial Analysis Service since 2018. We've always cared about implementing digitalized technology into our offices to elevate employee's engaging experience and minimize admin time and cost. The full range of services 9am provided helped increase our employees' work experience and asset management efficiency at the same time. "